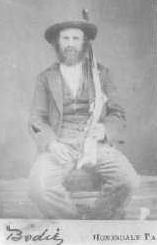 William Finley Teeple was the eldest son of Christopher Teeple and Eliza Depuy, born 18 May 1817 at the Delaware Water Gap. The family moved north to Equinunk, Wayne Co PA, where they settled for life. William Finley became a renowned hunter, married Sarah Quick of Equinunk, raised a family of seven children - Isabella, John, Samuel Elijah, Christopher, Simon, Sarah Elizabeth, William Henry - and died 10 Mar 1903.
As well as William Finley, Christopher and Eliza Teeple had other children: Robert, John, Christopher, Depuy, Ellison, Abraham, Elizabeth, and Harriet.
This family has retained a strong local presence, celebrating a family day every summer for the past 110 years. I've never seen a cemetery so crowded with Teeples as the Union Cemetery in Equinunk!
The person you should contact about this family is Richard Miles.